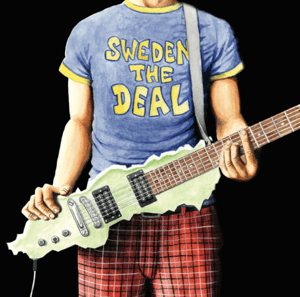 €

6.00 - On Sale
Sweden the Deal is a punk rock compilation put together in a joint effort by seven up and coming bands of the said genre, all from Sweden.
After seeing a continuously growing activity within the Swedish scene, Magnus Svärd, guitarist and vocalist of Broken Aris got the idea to assemble an array of likeminded, young bands and put together a record. This resulted in an seven-band split featuring fourteen fast, melodic, previously unreleased tracks to further spread the word of a Swedish punk rock scene on the rise.
The bands are: Kept and Trevolt from Malmö, Rebuke from Gothenburg, From the Tracks from Karlstad, Lapdog from Umeå, Same Old Story from Karlskoga, Broken Aris from Sundsvall.
Additionally, seven record labels have joined the project to help spread the word even further.
Release date and shipments on December 10th 2013!
01. Kept - Jehova
02. Kept - Mr. Steroid

03. Trevolt - Själsligt Suicid
04. Trevolt - Artificial Identity

05. Rebuke - A Scene to be Believed
06. Rebuke - Going to Japan and Back
07. From the Tracks - Bring Out Your Dead
08. From the Tracks - Thieves

09. Lapdog - Supernova Light
10. Lapdog - We Don't Belong

11. Same Old Story - The Norm in January
12. Same Old Story - Devoted & Damned
13. Broken Aris - I, Retard
14. Broken Aris - This is the Last One
Total duration: 37 min